Updated June 1st, 2020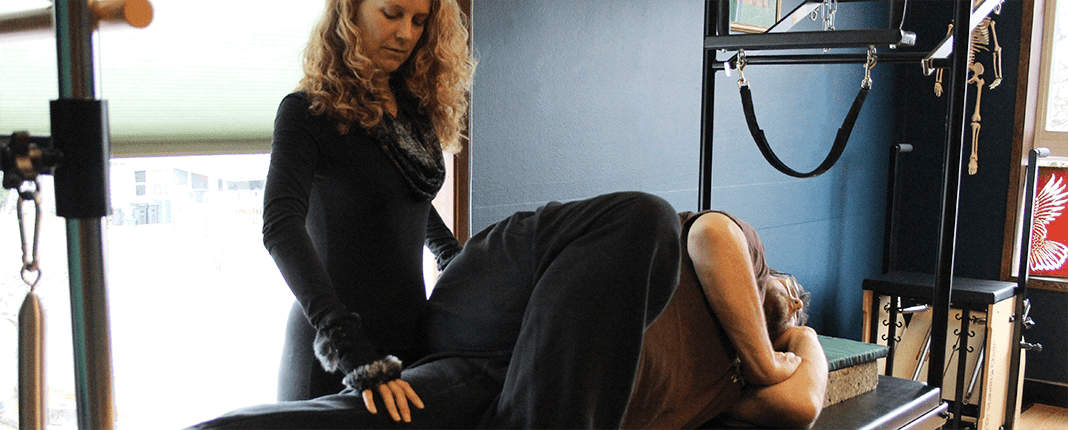 New Covid-19 Precautions & Guidelines
In consideration of everyone's safety, we will all need to work together to enable the studio to be a sanctuary amidst the health pandemic. I am following Oregon Health Authority guidelines as well as my own inner compass on what feels best.
Masks are optional. I am willing to wear one during your session if that feels most comfortable for you. Otherwise, I will opt not to because they are extremely hot and are very difficult to speak through clearly.
Although the studio is small, there is enough room to maintain a distance of at least 6 feet. Being a very tactile teacher, I will ask your permission if it feels necessary to help you through hands on cueing like usual. If you are not comfortable with that, I will respect your boundaries.
Please wait in your car and text me upon your arrival. I will be preparing the studio for you with the help of the previous client. I will text you when the studio is ready for you.
I ask that no one accompany you into your appointment unless it is absolutely necessary.
Please wash your hands for at least 20 seconds immediately upon entering the studio.
With your permission, I will be taking your temperature with a touchless thermometer.
In addition to the usual check in regarding how you are doing and feeling, I will ask you specific questions pertaining to the corona virus each time you have an appointment at the studio.
I will be asking for your help with cleaning after your lesson. I will be providing nitrile (latex free) biodegradable and disposable gloves for cleaning after each lesson. I will spray down all of the equipment and surfaces touched with a solution containing 75-80% alcohol, which is required to kill the virus. I will have you follow me with a cleaning cloth and wipe everything down. This will help greatly with saving time on cleaning, and preparing the studio to be safe for the next person. Thank you in advance.
If you are not feeling well or think you may have been exposed to a person with either confirmed or suspected COVID-19, please contact me via text right away to reschedule. Let's keep everyone who comes to the studio healthy.
Thank you for your cooperation and patience as we find our way together through this challenging experience!
All current clients, please sign and acknowledge: New Covid-19 Precautions & Guidelines. Thank you!
Scheduling Private Lessons
Pre-Registration is Required to Reserve Private Lessons
Pre-registration involves payment in advance as well as completing all online intake forms, linked below. These forms must be submitted 7 days minimum prior to your initial consultation. Payment must also be submitted in order to schedule with Susan.
Pre-registration can be done online: schedule and purchase private lessons. Please contact Susan at 541.914.0764 or susan@fmpilates.com with any questions.
Please Note: All purchased packages and lessons must be used within 6-months of purchase. Existing packages prior to COVID-19 will be honored through 12/31/2020.

Client Intake Forms
Please click the link below, which will take you to an external website, to securely provide your health history and acknowledge/accept Fusion Movement Policies prior to arrival at your first lesson.

Canceled Lessons
Our time together is valuable. In order to honor the commitment that each of us has made to your appointment, please kindly give at least 48-hour advance notice when canceling or rescheduling your lesson; even more notice is very helpful and appreciated when possible. Cancellation or rescheduling of an appointment with less than 48-hour advance notice will result in a full charge for that session.
Please note that this cancellation policy is in place to minimize disruption to all clients of Fusion Movement Pilates and to myself as your instructor. When appointments are canceled with less than 48-hour advance notification, other clients that have been turned away for that time miss out on a lesson, and I risk losing income. Special circumstances will be taken into consideration and will be decided on a case-by-case basis.
ILLNESS: If you feel like you are coming down with an illness, or are recovering from one, please contact me as soon as possible at 541-914-0764 so that we can decide together whether to conduct your lesson or if it is best for you to stay home, especially if you are scheduled to come in for your private lesson within a 24- to 48-hour period upon feeling ill. If you unexpectedly become sick and are unable to give at least 24-hour notice, I will do my best to reschedule you within 2-weeks of the missed private lesson in an attempt to make up the missed one but there are no guarantees. If rescheduling due to illness isn't possible and you have canceled with less than 24-hour notice, please understand that I lose income unless I charge for the missed session.
INCLEMENT WEATHER: There will not be a charge for a missed session due to inclement weather such as a snowstorm.
TEACHER CANCELLATION: If for any reason I must cancel your lesson with less than 24-hour notice, I will compensate you with a "freebie cancel pass". This pass will enable you to cancel one appointment one time only with less than 24-hour notice. Your "freebie cancel pass" is good for 2-months from the date of your canceled session.
Refunds for Private Lessons
Fusion Movement gives refunds in the form of credit for canceled private lessons when 24-hour notice has been given. Your credit will be valid for 6-months from the time of the canceled lesson. Fusion Movement does not give monetary refunds for canceled private lessons.